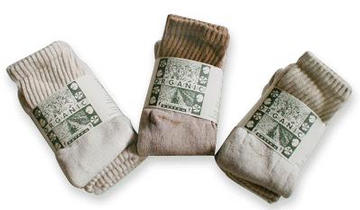 Regular Crew Organic Cotton Socks
- by Brands

Treat your feet to our favorite socks! Enjoy the soft comfort of organic cotton. These comfy socks are roomy and made from organic cotton that grows in earth tone colors. Three pairs of socks to a pack.

Other information:
Available in cream, brown, green or multi. Sizes S(7-9),M(9-11), L(10-13) & XL(13-15). Made in the USA from cotton grown in the USA. 85% certified organic cotton, 10% stretch nylon (outer foot), 5% elastic, rubber core covered with nylon (inner top). Brown and green fibers will uniquely deepen with washings. Organic Threads is a Co-op America Approved Green Business. Thanks for supporting organic farming. Multi-color packs include two pairs of cream, and one pair of brown color grown organic cotton.