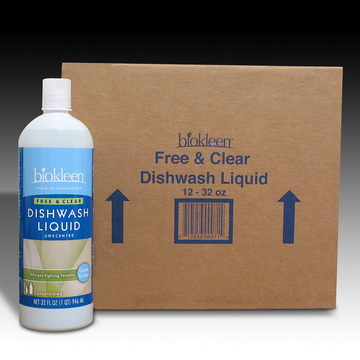 Free and Clear Dishwashing Liquid, 32 oz. Bottles (Case of 12)
- by Biokleen

Free & Clear Dishwashing Liquid is fragrance free, and like all Biokleen products, is clear or dyes and brighteners. Cuts through tough grease and baked-on-foods without the use of toxic chemicals. Dishes dry spot-free with not chemical residue or taste.

Other information:
Case of twelve 32 fl. oz. bottles with pour spouts. Allergen-fighting formula. Concentrated. Gentle on skin and kind to those with chemical sensitivities. Ingredients: Surfacants and conditioners from coconut and/or corn, grapefruit seed and pulp extract (has no scent), aloe, vitamin E, linear sulfonate, filtered water. Not for use in mechanical dishwashers. Made in USA. No animal testing, no animal ingredients.