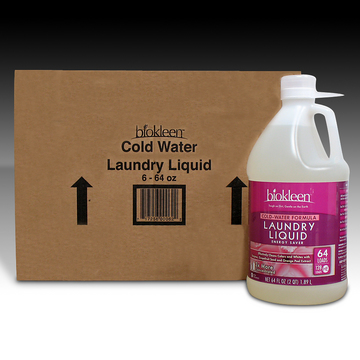 Cold Water Laundry Liquid, 64 oz. Bottles (Case of 6)
- by Biokleen

Cold Water Formula effectively cleans colors and whites with enzymes, grapefruit seed and orange peel extract. Cold-Water Formula works effectively using cold water in place of warm/hot water, reducing the amount of energy used to wash your clothes.

Other information:
Made in the USA. Concentrated formula. Environmentally friendly with no negative effects on rivers, streams, plants or wildlife. Kind to those with chemical sensitivities and allergies. No artificial fragrance or colors. Rapidly biodegrades, ozone safe. No phosphate, chlorine, ammonia, petroleum solvents, or alcohol. No EPA priority pollutants. No materials listed by the ACGIH as hazardous. Ingredients: Surfactants and conditioners from coconut and/or corn, orange peel extract, grapefruit seed and pulp extract, linear sulfonate, enzymes, filtered water No animal testing, no animal ingredients.