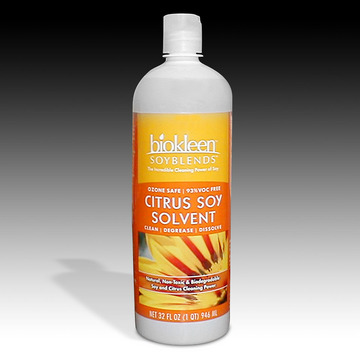 Citrus Soy Solvent (Case of Twelve 32 oz. Bottles)
- by Biokleen

Uses Soybean Oil Extract in place of high levels of citrus extract and petrochemicals to offer you a much safer, natural alternative that is non-flammable, non-combustible, and gentle to skin, without sacrificing environmental and cleaning quality.

Other information:
Ozone Safe. Super Concentrated. Multi-Purpose: All Purpose, Heavy-Duty Degreasing, Light Cleaning, and Dissolving. Dissolves gum, wax, paint, adhesives, tar and more. Gentle to skin. Made in the USA.