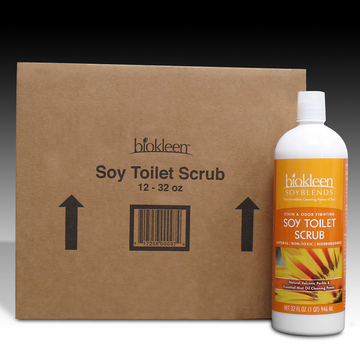 Soy Blends Toilet Scrub, 32 oz. Bottles (Case of 12)
- by Biokleen

Effectively cleans and deodorizes toilets, without the use of harmful acids or caustics. Environmentally friendly, with no negative effects on rivers, streams, plants, or wildlife. Safe for septic systems.

Other information:
With Soybean Oil Extract, Natural Volcanic Perlite, and Grapefruit Seed Extract. Soybean oil extract, used in cleaning products, is the latest technology replacing harmful, hazardous solvents, such as petrochemicals. Can also be used on porcelain surfaces, sinks, tubs & tiles, shower doors, and chrome. 32 oz. bottle. Made in the USA.

Ingredients: Water, xanthan gum, zeolite, linear alcohol surfactant from coconut, coconut surfactant (No DEA or SLS), low pH silicate, essential oils from mint, grapefruit seed extract, soybean oil extract, natural volcanic perlite, trace amounts of environmentally friendly polymer.