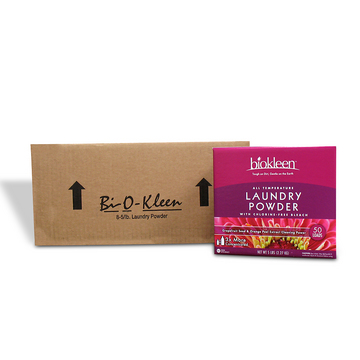 All Temperature Laundry Powder, 5 lb. Boxes (Case of 8)
- by Biokleen

Phosphate and chlorine free with grapefruit seed and orange peel extract for the cleanest, softest, brightest and freshest wash imaginable! 5 lbs. box, 50 full loads.

Other information:
Fresh, natural orange scent. Features color safe oxygen bleach. Works even in cold or hard water. 100% natural active ingredients. No table salt or fillers. Eliminates musty mildew and sour odors. Leaves no skin irritating residue. Great for diapers and infant clothing. No harsh fumes. Anti-corrosive. Readily biodegradable. Environment safe. Kind to sensitive skin. Rinses free of soap residue and hard water deposits; primary causes of skin irritation and diaper rash. Great energy saver-laundry comes out so clean and residue free that clothes actually dry faster on lower heat settings. Contains natural anti-corrosion agents to prevent rust and protect washers. All natural sourced active ingredients-Contains NO polymers, metasilicate, phosphorus, chlorine, borine, petrochemicals, synthetic detergent, MEA, EDTA, phenolics, cationic softeners, optical brighteners (or other dyes), or artificial fragrance. NO animal testing or ingredients. Ingredients: Soda ash, zeolites, sodium citrate, vegetable fiber chelaters, sodium percarbonate, grapefruit seed & pulp extracts, orange peel extracts, natural corrosion inhibitors, surfactants-degreasers and conditioners from coconut, low pH silicates and sodium sulfate. Packaged in unbleached corrugated with post consumer waste materials. Made in the USA.