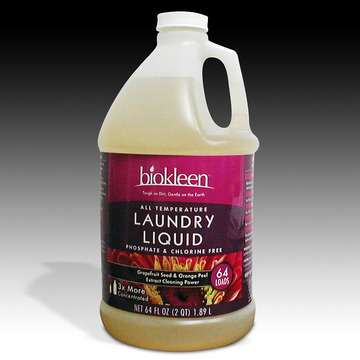 All Temperature Laundry Liquid (Case of Six 64 oz. Bottles)
- by Biokleen

Grapefruit seed and orange peel extracts contribute to a cleaner, softer, brighter and fresher wash - the way nature intended! Helps control mildew odors, souring and other musty odors. Kind to sensitive skin. 64 fl. oz. in each bottle.

Other information:
This laundry liquid was tested and compared in hotels and nursing homes under the worst soil conditions, on all types of fabrics, including kitchen towels, aprons, tablecloths, napkins, linens, diapers, bath towels and clothing. In every case, Bi-O-Kleen got them cleaner, brighter, softer and more residue free. You simply can't find a better performing, safer, or more environmentally responsible laundry liquid on the market! Truly concentrated - no salt or thickeners. All temperature, non-corrosive. Rinses free of residues - a primary cause of skin irritation, diaper rash and dull, stiff fabrics. Won't build up on clothes or washer. Naturally controls musty mildew and sour odors. Great news for towels and clothes. Biodegrades rapidly without negative effects on rivers, streams, plants or wildlife. Contains NO polymers, glycol ether, nonyl phenols, butyl, caustics, MEA, TEA, silicone defoamers, optical brighteners or other dyes, known carcinogens or artificial fragrances. 100% post consumer waste bottle. No animal testing or ingredients. Ingredients: Surfactants and water conditioners from coconut, linear ethoxilate from coconut, grapefruit seed and pulp extract, orange peel extract, antiredeposit agents from corn, and filtered spring water. Made in the USA.