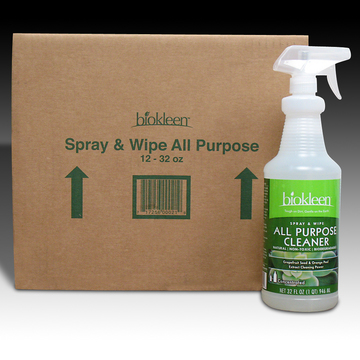 All Purpose Spray & Wipe Cleaner, 32 oz. Bottles (Case of 12)
- by Biokleen

Instantly cleans and deodorizes all washable surfaces and materials inside and outside the home! Excellent laundry, carpet and upholstery spotter.

Other information:
Safe for stainless, chrome, mirrors and painted surfaces. Non-corrosive, non-staining and non-streaking. Bi-O-Kleen Spray & Wipe Cleaner is preferred by more professionals, including janitorial and carpet care experts, for its amazing performance, versatility and non-aggressiveness to materials, skin or respiratory tract. Bi-O-Kleen is safe and effective on all washable surfaces and fabrics including kitchens, bathrooms, appliances, painted surfaces, walls, stainless steel, mirrors, chrome, vinyl, porcelain and more. Great for kitchens, bathrooms, floors, walls and appliances. Can be used on all water safe surfaces and materials. No harsh fumes, non-toxic, non-irritating to skin, non-corrosive and non-staining. Kind to sensitive skin. Eliminates odors as it cleans. Biodegrades rapidly without negative effects on rivers, streams, plants or wildlife. Contains no glycol ether, butyl, petroleum solvents, MEA, EDTA, phosphorus, coloring, or artificial fragrances. No animal testing or ingredients. Ingredients: Surfactants, wetting agents and degreaser from coconut oil, grapefruit seed and pulp extracts, cold-pressed Valencia orange peel extract, linear sulfonate and filtered spring water. Made in the USA.