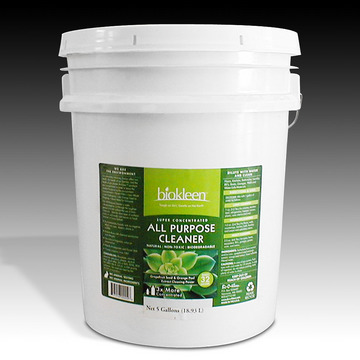 All purpose Cleaner & Degreaser (5 Gallon Pail)
- by Biokleen

The most effective, versatile, cost effective, safe, and most environmentally all purpose cleaner you can imagine. 5 gallon pail.

Other information:
Bi-O-Kleen's powerful action and pleasant natural orange scent makes all of your cleaning projects inside and outside the home a more pleasant and less tedious experience. Great for kitchens, bathrooms, floors, walls, and appliances. 64:1 dilution ratio. Exceptionally kind to sensitive skin. Non polluting, No glycol ether, No harsh fumes, and non corrosive. Ingredients: Surfactants, water conditioners and degreaser from coconut oil, grapefruit seed and pulp extract (protects hands and controls mildew odors), orange peel extracts (lifts soil and deodorizes), linear sulfonate, filtered spring water. Made in USA. Re-usable dispensing pail pump sold separately.