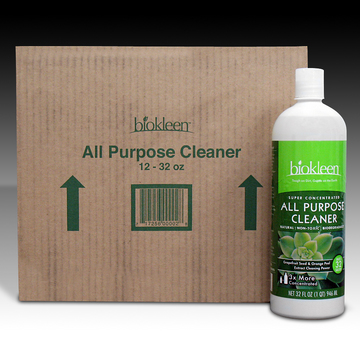 All Purpose Cleaner & Degreaser, 32oz. Bottles (Case of 12)
- by Biokleen

Preferred by more professionals for cleaning all washable surfaces and materials inside and outside the home! Fresh natural orange scent! Comes in a 32 fl. oz. bottle with spout.

Other information:
Professionals agree that Bi-O-Kleen is simply the most effective, versatile, cost effective, safe and environmentally responsible all purpose cleaner you can imagine-even in cold or hard water. Bi-O-Kleen's powerful action and pleasant natural orange scent makes all your cleaning projects a more pleasant and less tedious experience. Great for kitchens, bathrooms, floors, walls and appliances. Use as a carpet, upholstery or laundry spotter. Concentrated for economy, no salt or thickeners. Exceptionally kind to skin and those with chemical sensitivity. No harsh or toxic fumes. Biodegrades rapidly without negative effects on rivers, streams, plants or wildlife. Contains no glycol ether, butyl, phosphate, MEA, EDTA, preservatives, nonyl phenol, artificial fragrance or coloring. No known carcinogens. No animal testing or ingredients. 100% post consumer waste bottle. Ingredients: Surfactants, water conditioners and degreaser from coconut oil, grapefruit seed and pulp extract (protects hands and controls mildew odors), orange peel extracts (lifts soil and deodorizes), linear sulfonate, filtered spring water.