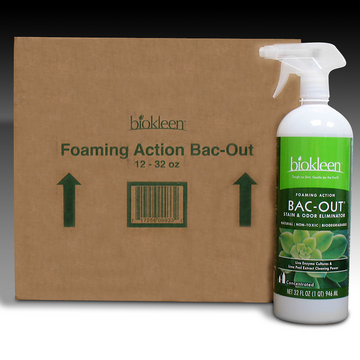 Bac-out Foaming Action Stain Remover (Case of Twelve 32 oz. Bottles)
- by Biokleen

The awesome Bac-out stain & odor remover is now available in a foaming action spray bottle. The Lime Peel Extract destroys the toughest odors so they are gone for good. Excellent for mold and mildew. Preferred by commercial carpet cleaners.

Other information:
Foaming Action Bac-Out has live enzyme-producing cultures that attack pet, food, and beverage stains, organic waste, and odor until they are gone, digesting them back to nature, safely and naturally. Bac-Out is safe to use around children and pets, even birds. Biodegradable, non-toxic and no harsh fumes! BacOut is proven by more carpet and odor control experts to be the most effective, versatile, safe and pleasant to use weapon against stains, odors and organic waste ever created. This unique combination of natural live aerobic and anaerobic enzyme cultures with botanical extracts eliminates a full range of stains and odors from: pets, mildew, oil, grease, food, beverages (even coffee & tea), body oil, soap scum, urine, smoke, drain sludge and more. Great for: carpet, upholstery, laundry, diapers (safe for cottons), bathroom, drains, pet shelters, compost, waste & septic tanks, auto, RV and much more. No animal testing or ingredients. No nonyl phenol or other known carcinogens, synthetic enzymes, glycol ether, alcohol, petroleum surfactants, artificial fragrances or coloring. Contains: natural enzyme cultures, food grade citrus extracts and stabilizers, vegetable-based surfactants and filtered spring water. Made in the USA.