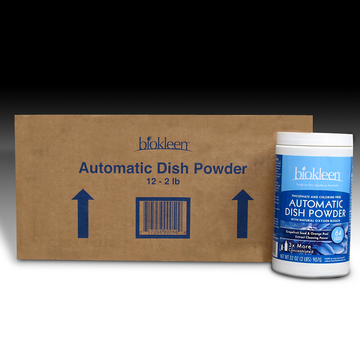 Automatic Dish Powder (Case of Twelve 2-lb. Jars)
- by Biokleen

Phosphate & Chlorine free! No more pre-washing dishes, removes tough grease and baked on foods like magic. Leaves no spots or film, no chemical taste, anti corrosive & biodegradable.

Other information:
This automatic dishwashing powder was developed for commercial use and is the safest, most effective, environmentally responsible dish soap possible, and the most cost effective. Bi-O-Kleen cleans so well that you don't need to pre-wash your dishes. A great energy and water saver! Super concentrated, no fillers or table salt. Naturally removes stains, fights corrosion and controls odors in automatic dishwashers. Rinses completely free of spots, film and residue. Leaves no chemical taste on the dishes or glassware. Contains no chlorine, borine, phosphorus, quaternaries, nonyl phenol, silicone defoamer, MEA, EDTA, glycol ether, free silica, coloring or artificial fragrance. No animal testing or ingredients. Made with natural oxygen bleach (sodium percarbonate), vegetable fiber, natural anti-corrosive agents, grapefruit seed and orange peel extracts (emulsify grease, help rinsing and prevent odor build-up), soda ash, sodium citrate and readily biodegradable nonionic surfactants. Safe for all dishes, glassware, pots, pans and utensils that are designated by the manufacturer as "dishwasher safe". Use one tablespoon per load. Made in the USA.