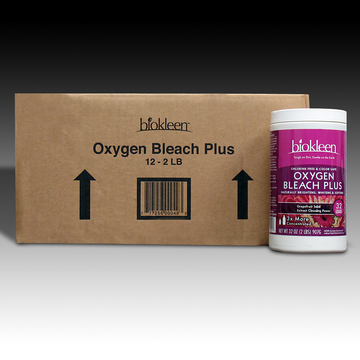 Oxygen Bleach Plus, 2-lb. Tubs (Case of 12)
- by Biokleen

Naturally brightens colors and white fabrics! All natural, biodegradable and ozone safe! Contains no chlorine or borine! No animal testing or ingredients! 32 oz., 32 loads.

Other information:
Color safe Oxygen Bleach with natural detergent boosters, water conditioners and mildew stain and odor inhibitors. No skin irritating residue. Prevents souring and yellowing from repeated washing. No chemical cold water activators, readily biodegradable, non polluting, all temperature. Special natural clays that grab heavy metals and rinse them away, and are actually beneficial to the environment. Percarbonate oxygen bleach. Unlike perborate, requires no pre-mixing or chemical activators to work in cold water. Vegetable fiber chelators to condition water and prevent redepositing of soap and minerals on clothing and washer. Natural anti-corrosive compounds to prevent rust and corrosion. Also contains soda ash, sodium sulfate and zeolites.