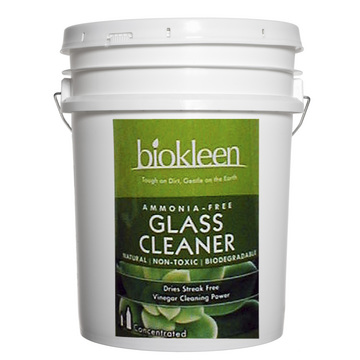 Glass Cleaner (5 Gallon Pail)
- by Biokleen

Ideal for crystal clear, streak-less professional results! Instantly dissolves and lifts away tough soils on glass, chrome, stainless and other shiny surfaces.

Other information:
No harsh toxic fumes, no ammonia, no butyl, no glycol ether. Non-toxic, non-corrosive and biodegradable. Bi-O-Kleen glass cleaner is preferred and used by professional window washers, is absolutely safe for humans, plants, rivers, streams, wildlife and the ozone layer. Contains no MEA, EDTA, nonyl phenol, phosphorus, coloring or fragrance. Dissolves grease, grime, nicotine and pollution residue. No animal testing or ingredients. Ingredients: Hard surface surfactants and emulsifiers from coconut oil, linear sulfonate, natural vinegar and filtered spring water. Made in the USA. Dispensing pail pump sold separately.